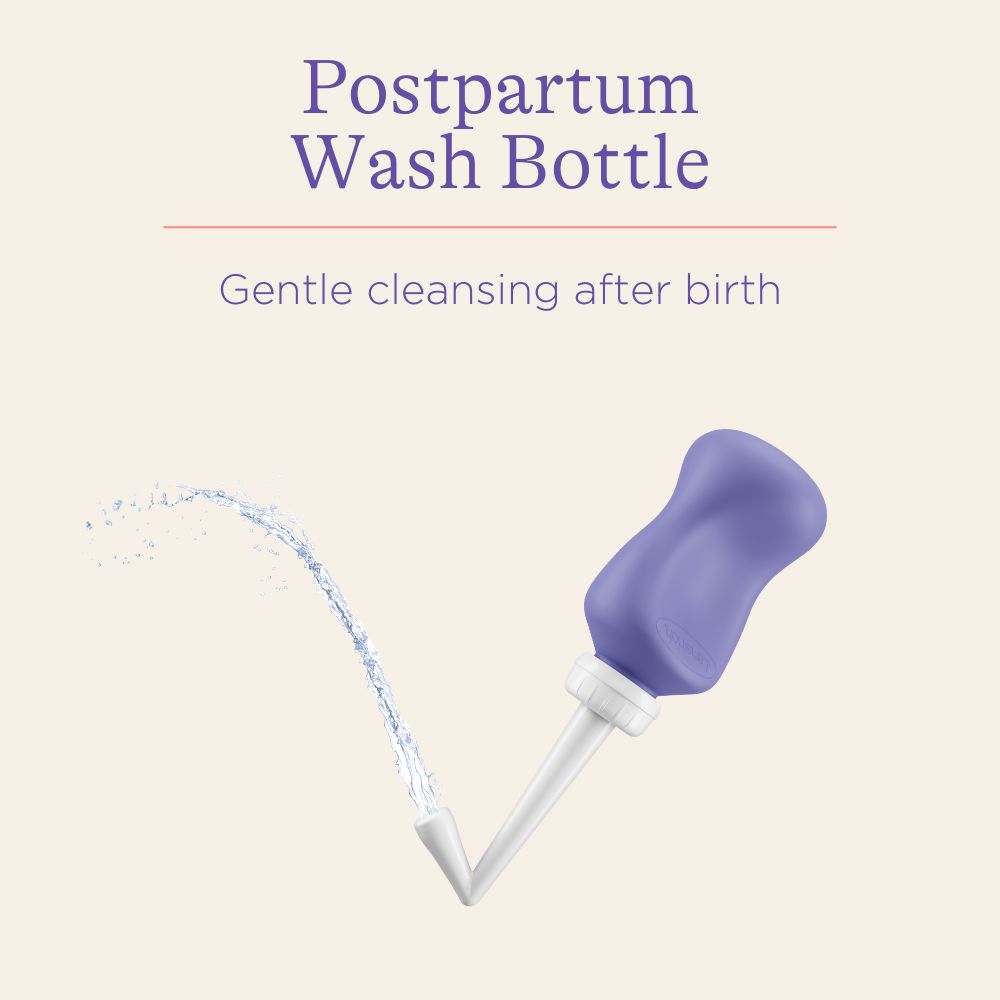 Postpartum Recovery Essentials
<! –– Bazaarvoice Shopify Integration Version 2.1 ––>
New moms need care, too. You'll be recovery-ready with three postpartum must-haves in this convenient bundle. Includes an upside-down wash bottle for gentle cleansing, Herbal Postpartum Spray for soothing care, and reusable Hot and Cold Postpartum Therapy Packs for cooling pain relief and comforting heat therapy. Simple, safe, and backed by research and guidance from experts.
Wash Bottle includes an extendable, angled spout to cleanse hard-to-reach areas
Herbal Postpartum Spray is gynecologically tested and made with witch hazel, aloe, and calendula; 99% natural
Super-versatile Therapy Packs can be used to relieve perineal, hemorrhoid, and C-section pain, or hot to relieve postpartum uterine cramping
1x 12.2 oz Wash Bottle with travel bag
1x 3.5 oz Herbal Postpartum Spray
2 reusable Hot & Cold Postpartum Therapy Packs with 12 disposable sleeves
Postpartum Wash Bottle: Spray a steady stream of warm water during urination for soothing comfort. Use for gentle cleansing as needed. Easy to clean with soap and warm water.

Herbal Postpartum Spray: Mist over the perineal area to soothe as needed. May be refrigerated for extra cooling effect. Keep out of reach of children. Avoid contact with the eyes. Do not use on breasts, nipples, in or near mouth.

Hot & Cold Postpartum Therapy Packs: Use cold to reduce swelling and discomfort associated with perineal pain, hemorrhoids, and c-section. Use hot to relieve postpartum uterine cramping. Cool or heat as directed. Apply for 20 minutes, or as recommended by your healthcare provider.

Please see additional instructions in the box and use only as directed.
POSTPARTUM WASH BOTTLE & SPRAY
Cleanse and soothe
Forget toilet paper and messy squirt bottles. Our Postpartum Wash Bottle provides a soothing stream of water to gently cleanse sore, tender areas after birth. After cleansing, soothe and calm with our drug-free, plant-based Herbal Postpartum Spray. An upside-down sprayer allows for easy, mess-free application.
POSTPARTUM THERAPY PACKS
Relieve Pain
These pads are fire (and ice)! The Hot & Cold Postpartum Therapy Packs provide soothing comfort and pain relief in a slim, reusable pad. Convenient to use right out of the freezer, cold pads relieve perineal pain caused by labor, birth, hemorrhoids, and C-sections. Or microwave these multi-taskers for soothing relief from uterine cramping.
FAQs
What moms want to know
You can start using the Wash Bottle immediately after birth. Spraying a stream of water while urinating can help dilute urine for more comfort. And you'll want to avoid toilet paper and instead use the Wash Bottle for gentler cleansing of sore, tender areas.
Yes, our Herbal Postpartum Spray is dermatologically and gynecologically tested, formulated hypoallergenic, and suitable for sensitive skin.
Yes, the packs can be used (hot or cold) with or without the disposable sleeves. The sleeves are provided for additional hygienic comfort – simply slide over the pad hot or cold. Disposable sleeves are intended for one time usage.
Be sure to test the pack temperature before use.
BIRTH PREP & RECOVERY
Simple Solutions for Postpartum Pain Relief
While you're learning the ropes of new parenthood, you'll likely also experience some pain or discomfort as you recover from birth.
Read more