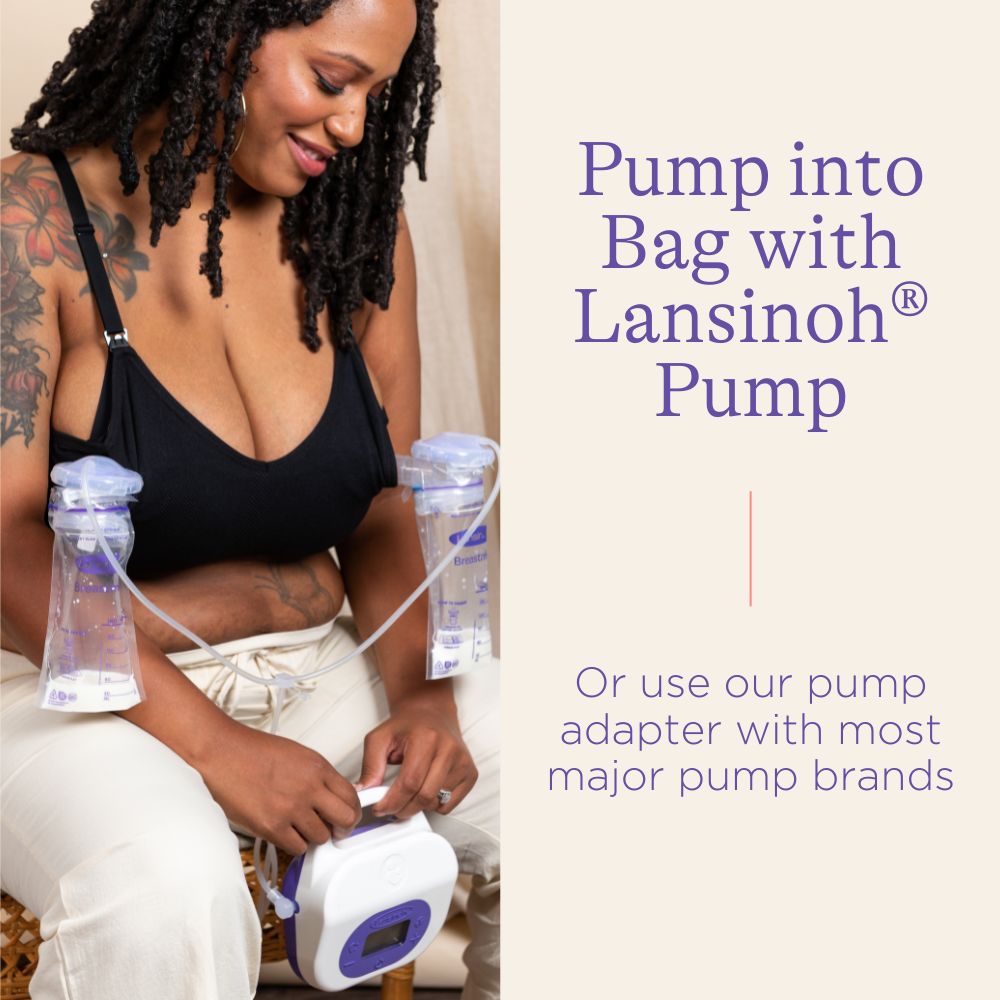 Breastmilk Storage Bags - 6oz
<! –– Bazaarvoice Shopify Integration Version 2.1 ––>
No one knows dedication like a pumping mom. Protect every hard-earned ounce with Lansinoh® super strong Breastmilk Storage Bags. Safely freeze and store your breastmilk with reinforced double sealed side seams and a double zipper for ultimate protection. Presterilized for safe storage and BPA/BPS free. There's a reason Lansinoh is the #1 selling breastmilk storage bag in the US.
Built super-strong for storing, freezing, and protecting your breastmilk
Pump directly into bag using your Lansinoh pump, or most major pump brands using our pump-into-bag adapter (sold separately)
Presterilized with a tamper-evident, fully sealed tear-away top for safety
Includes a large write-on label at the top plus a convenient pour spout
Lansinoh® Breastmilk Storage Bags, 6oz
Pour breastmilk into the bag or pump directly into the bag – up to 6oz max. Remove excess air and seal completely, then lay flat to freeze. To thaw, place the sealed bag in warm tap water. Please see additional instructions below and or inside the box. Use only as directed.
PROTECT YOUR BREASTMILK
Trusted by parents around the world
Lansinoh's #1 selling Breastmilk Storage Bags are ideal for storing, freezing, and protecting your precious breastmilk. We make them with double sealed side seams and a double zipper for extra protection. Plus they're BPA/BPS free.
BUILD YOUR STASH
Save time pumping directly into bag
Save the hassle of milk transfers and pump directly into the bag. With a Lansinoh pump, you simply slide the bag over the Breast Flange Body and start pumping. Or use our pump-into-bag adapter (sold separately) with most other major pump brands. Learn more about pumping into bag here.
FAQs
What moms want to know
We recommend removing excess air from the bag and double-checking to ensure it is not overfilled. When zipping close, make sure your bag is sealed all the way to the ends. Lay flat to freeze. To protect the bags from contact with other frozen items or freezer surfaces, place flat bags in a container or freezer bag.
When thawing breastmilk, please remember to handle it as gently as possible to preserve all the valuable nutrients. If time is not an issue, the frozen Breastmilk Storage Bags can be thawed in the refrigerator or at room temperature. Pressed for time? Try placing the frozen sealed bag in a bowl of warm tap water; please never use extremely hot or boiling water on a stovetop. DO NOT microwave frozen milk storage bags as this process may destroy nutrients in the milk and create dangerous "hot spots."
BREASTFEEDING & PUMPING
Tips for Storing Breastmilk
You've worked hard to pump your breastmilk, so you'll want to make sure it's properly stored. Here are some tips for storage and thawing.
Read more