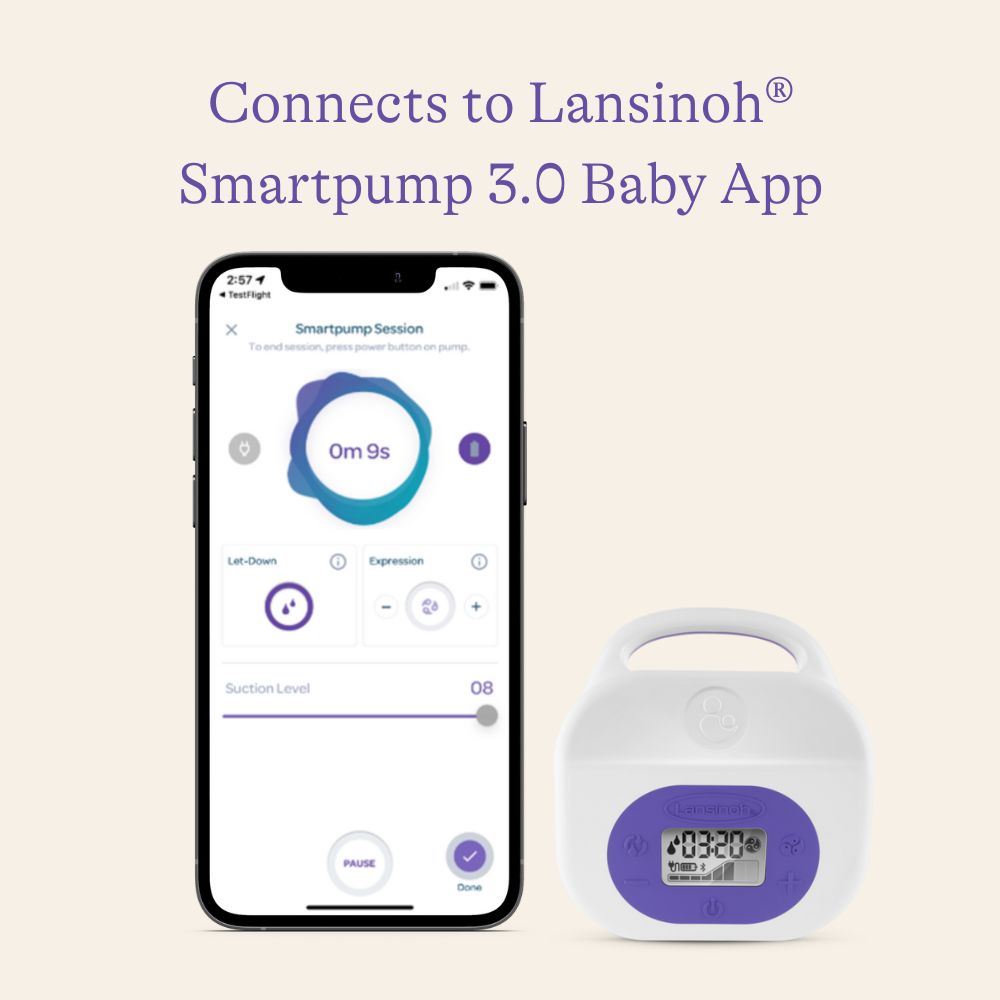 Smartpump 3.0 Rechargeable Breast Pump
<! –– Bazaarvoice Shopify Integration Version 2.1 ––>
Comfortable and cordless. The Lansinoh® Smartpump 3.0 has it all: ComfortFit® flanges in 3 sizes for the perfect fit, a long-lasting rechargeable battery for cordless pumping, customizable settings, and a Bluetooth® connected Lansinoh Baby app to automatically track your pumping sessions.
3 sizes of ComfortFit® flanges with soft, flexible rims hug your curves for ideal fit and suction
Rechargeable battery to pump anywhere without plugging into a wall
Control your pump with the Lansinoh® Baby app and automatically track your sessions
3 pumping styles to mimic baby's natural feeding patterns and 2-phase technology with let-down and expression
8 suction levels for adjustable hospital strength to maximize milk flow
Pump directly into Lansinoh Breastmilk Storage Bags to save time. May be used as a double or single pump
1 Lansinoh® Smartpump 3.0 pump unit
2 ComfortFit® flanges (25mm)
2 ComfortFit® flanges (28mm)
2 ComfortFit® flanges (30.5mm)
4 Lansinoh® breastmilk collection bottles (5oz)
4 bottle storage lids
2 flange bodies
4 diaphragms
2 diaphragm caps
1 NaturalWave® nipple (slow flow)
1 nipple collar
1 nipple cover
4 white valves
3 connection tubes
1 Y tubing connector
1 pump connector
1 AC adapter
1 cooler
1 instruction booklet
Simply charge the battery for easy, cordless pumping. Use with a pumping bra to pump hands-free. Save time and pump directly into Lansinoh® Breastmilk Storage Bags. Please see additional instructions in the box and use only as directed.
COMFORTABLE FOR MOM
ComfortFit® Flanges
Hug your curves with soft, flexible rims for the ideal fit and suction. Available in five sizes to ensure a secure, comfortable fit every time (25mm, 28mm, and 30.5mm sizes included).
CORDLESS UNTETHERED PUMPING ANYWHERE
Easy Rechargeable Battery
Installed inside the Smartpump 3.0 for easy charging and portable pumping anywhere without plugging into a wall.
FAQs
What moms want to know
The Smartpump 3.0 comes with a pair of 25mm, 28mm, and 30.5mm ComfortFit® flanges. If you need additional sizes, we also have 21mm and 36mm sizes that are compatible with the Smartpump 3.0. Read our flange fit guide to learn more about ComfortFit® flange sizing.
Yes, the Smartpump 3.0 uses Bluetooth® to automatically connect to the Lansinoh Baby app to track your pumping session and adjust your settings. You can also track your breastfeeding, and baby's schedule including bottle feedings, and diaper changes.
Simply connect the AC power adapter to the Smartpump 3.0 and plug into an electrical outlet. The LCD screen will display the power adapter icon and battery icon to indicate charging is in progress. Leave it plugged in and charging for a minimum of 3 hours before using it for cord-free pumping.
BREASTFEEDING & PUMPING
Preparing to Pump
As you think about preparing to breastfeed, you may be thinking about pumping as well.
Read more